Thank You !
Thankyou for supporting IIRRM and furthering the work and goals in advancing the field of Restorative Reproductive Medicine, and improving the reproductive care and research for both men and women worldwide.
The IIRRMA is a registered 501-c3 charity and all donations over $25 will receive by email a tax donation receipt at the end of the year.  We always value your input, if you have suggestions, programs or ways you would like to see us grow please send us an email at info@iirrm.org.
What observations and effects could Covid-19 infection or Covid-19 vaccination have on women's cycles?  What observed menstrual changes are seen in women's charts during this time, and how long do these persist?  How could further data be collected for further research? View this Grand Rounds to explore early data observing the effects of covid 19, as well as the Covid 19 vaccination, on women's cycle charts.
Are you struggling to build a sustainable practice?  Whether you're operating as a volunteer or a business, learn how to intentionally steward your resources and relationships for soul-aligned service & impact!  Learn tips to evaluate and create a model and pricing method that is sustainable for both your health and clients. This webinar includes time for hands-on activities and access to Anna's pricing method.
Dr. Patrick Yeung reviews the differences between ART/IVF and Restorative Reproductive Medicine (RRM) and the importance to offer alternatives to IVF to patients.  Current surgical approaches and factors to consider in timing a laparoscopy for suspected endometriosis. Dr. José Antonio and Dr. Stanford facilitate Q & A following the presentation.
Abstracts are now being accepted for the 19th International Conference for Restorative Reproductive Medicine being held in Lisbon, Portugal on March 10-11th 2023.  Authors are invited to submit their research for either in-person, or virtual presentation.  Both poster and oral presentations will be considered.   All abstracts must be received no later than Nov 23,  2022.  Please review our guidelines before submission.
Highlights include : different options, approaches and perspectives in endometriosis management: the surgical, integrative, and medical treatment and […]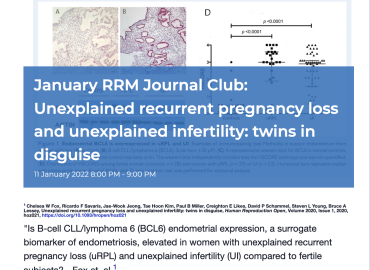 "Is B-cell CLL/lymphoma 6 (BCL6) endometrial expression, a surrogate biomarker of endometriosis, elevated in women with unexplained recurrent pregnancy loss (uRPL) and unexplained infertility (UI) compared to fertile subjects?". What could this study suggest for potential treatment and future investigations for recurrent miscarriage and unexplained pregnancy loss? Review the findings of this study in the IIRRM Journal club with Dr. Joe Stanford.