Welcome to the RRM Community !
Thankyou for signing up or renewing membership with the IIRRM.  Make sure to add info@iirrm.org to your contact list to receives our emails.  Complete take a moment to complete your application and Member Profile here.  This allows us to expand our database of providers offering RRM services (if you are accepting clients/patients).  It also allows us to determine when to contact you for research as well as location relevant events or opportunities. All information provided is in accordance with our privacy policy and Membership Policy.  We never give out information to other providers, patients, or persons outside our membership without your consent.
Looking where to start?  Explore our lates webinars, and posts below or  register for a conference.  Register for an Upcoming Event : https://iirrm.org/events/list/ and view our Webinar Archive of 200 + Educational Videos : https://iirrm.org/webinar-archive/
Dr. Patrick Yeung reviews the differences between ART/IVF and Restorative Reproductive Medicine (RRM) and the importance to offer alternatives to IVF to patients.  Current surgical approaches and factors to consider in timing a laparoscopy for suspected endometriosis. Dr. José Antonio and Dr. Stanford facilitate Q & A following the presentation.
Bruce A Lessey MD, PhD. discusses the biomarkers of endometrial receptivity and diagnostics for endometriosis, including the use of BCL6 testing. Review timing and synchrony of the embryo, progesterone, and endometrium that occur in a successful pregnancy. Discuss how to approach treatment and predict pregnancy outcomes with this information.
Professor Stephan Gordts presents a systematic minimal invasive exploration of so-called "unexplained infertility" (normal ultrasound/normal HSG) reveals the presence of pelvic pathology on 50-70 % of patients. In the absence of other fertility impairing factors, like male infertility, he looks at the different treatments of these pathologies to create the possibilities for normal conception.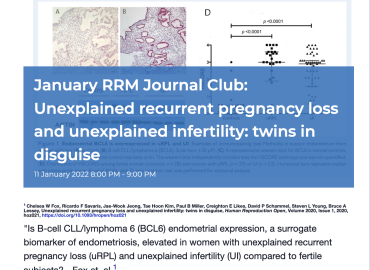 "Is B-cell CLL/lymphoma 6 (BCL6) endometrial expression, a surrogate biomarker of endometriosis, elevated in women with unexplained recurrent pregnancy loss (uRPL) and unexplained infertility (UI) compared to fertile subjects?". What could this study suggest for potential treatment and future investigations for recurrent miscarriage and unexplained pregnancy loss? Review the findings of this study in the IIRRM Journal club with Dr. Joe Stanford.
Hosted by the International Institute of Restorative Reproductive Medicine of America (IIRRM-A) Hear the latest updates in research and clinical […]
What is the association between the gut microbiome and PCOS? What about the impact of the microbiome on health and diseases? Dr. April Lind explores the potential relationship between the gut microbiome and PCO, as well as providing an overall understanding of what exactly is meant by the microbiome and the effect on health and disease. Learn new ways of optimizing treatment for PCO, and share your thoughts on potential options for better treatment and management of this disease in the forum.